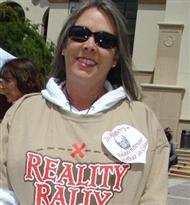 In 1995 my husband Phil and I moved to Temecula with our two children, Cody & Kiley.
Over the years I have actively volunteered throughout our community. Starting with the M.O.M.S Club (Moms Offering Moms Support), serving on the board as their Membership Specialist. A wonderful organization to get stay at home moms out with their children to meet others in their area. Once our children entered elementary school I soon became their Scout leaders and served as a volunteer or board member for their PTA's. It gives me great joy to volunteer for our schools and community.
When I learned about Realty Rally, and what it represented, I was excited to sign up to volunteer. In 2012, Reality Rally's second year, my daughter Kiley and I volunteered to help at the Team Finish Line, directed by Cynthia & Bill Stedfield. The very next year, Cynthia & Bill planned to race in the event & asked me to take over. I accepted! In 2013, I quickly put my personal touch on the division and started building my valuable team of volunteers. Starting with my Team Relation Coordinator, Pam Rainey.
Reality Rally has been a true blessing. It has provided the much needed avenue to honor family and friends that have passed due to cancer. Every year men and women, young and old, are diagnosed with cancer. Some treatable, others not. I'm thankful to be working with a committed group of good hearted volunteers that want to make a difference. With our small part, we help Michelle's Place to help those in need.
If you have any questions about our "Amazing Race Game", email your questions to: JoanRealityRally@gmail.com
Look forward to meeting you and your team!