Reality Rally Stars Line Up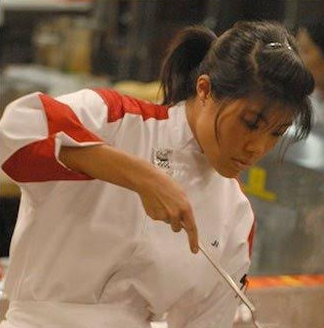 Hell's Kitchen
Biography of Ji H. Cha
Ji has been in the restaurant industry since she was 11 years old and worked in the kitchen making dumplings for her father's restaurant. Arirang House was the 1st Korean restaurant in Manhattan and was open 1964 by her grandfather; located on 28 west 56th street. Unfortunately, the restaurant closed on 1989 because her whole family decided to move to Korea.
Ji came back to the USA 1993 to Boston and she worked in numerous restaurants in Boston. Due to her passion in hospitality she decided to attend The Culinary Institute of America in Hyde Park, NY.
Upon graduation she worked furthering her knowledge in food; like, Germany, Holland, Africa, Hawaii, Spain, Japan and Korea. After her traveling and working overseas she came back to NYC and worked at numerous places in the city. One of them being Le Bernadin and the chef wouldn't give her full time and only worked on the weekends to save labor costs.
Due to her boredom, Ji went to an open casting call for FOX Network's Hell's Kitchen with renowned chef Gordon Ramsey. She got in and was on Hell's Kitchen Season 5; unfortunately Ji didn't get far due to an injury on the show.
Today Ji Cha works for Performance Food Group Metro NY as a Territory Manager in Manhattan, which gives her a quality of life and time with her family and friends.
Ji is a very reliable, responsible, patient, clean, considerate and helpful person.