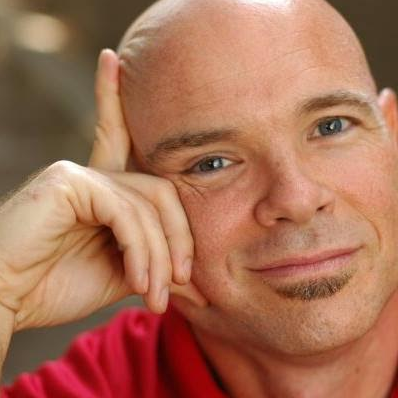 Big Brother 2
In 2001 Bunky Miller became the first openly gay houseguest on Big Brother, Season 2. You may remember him as the bald gay guy with a hairy back from the South that cried all the time. At the time, Bunky was living and working in Charlotte, NC with his husband, Gregg. Bunky survived 62 days (9 weeks) before being evicted and leaving 4 remaining houseguests in the Big Brother house. Bunky will never forget his eviction day, 11 days before September 11, 2001.
After Big Brother, Bunky created a Bunkymania Tour, performing in his one-man show for charities throughout the United States. Unfortunately, due to limited funds, his tour visited only 5 cities. In 2003, Bunky and Gregg agreed that after 14 years of marriage, they would pursue different paths in life, though remaining best friends. So Gregg moved back to their home city of Cincinnati, Ohio and Bunky started over. He quit his job as a Technical Writer at First Union Bank, sold their house, and taking only what he could fit in his purple PT Cruiser, Bunky set out for Hollywood! He took his time, spending 3 months driving across America to California, stopping in various cities to see family, friends, and fans. He also spent a week living with Kent, a former houseguest, and his lovely family in Knoxville, TN.
In 2003 Bunky arrived in Los Angeles, CA with no job and no place to live. He eventually convinced an apartment complex to rent him a tiny 400 sq ft unfurnished studio apartment, where he initially slept on the floor. Immediately he enrolled in acting and comedy classes, and went to commercial auditions. Bunky was finally pursuing his life dream of becoming a comedic entertainer! And through years of rejection, he learned just how hard it is to succeed in show business as a 38 year old bald gay man with limited acting experience.
However, Bunky did achieve a few successes, appearing in a comedy bit on Deal or No Deal, appearing in a national Pizza Hut commercial, special guest starring weekly on Reelz channel's Reality Remix hosted by Kennedy, and co-hosting House Calls, the live Big Brother internet talk show on cbs.com for 4 seasons until the cancellation of that talk show.
Nearly broke, in 2007 Bunky had to decide whether to make money as a gigolo or go back to working in IT as a Technical Writer. Once again, Bunky learned the hard way just how competitive the "late night entertainment biz" can be, so he got an office job once again. ;-)
For the past 10 years, Bunky has been working as a Project Manager, currently at Samsung. A year ago he moved to San Francisco, after living in Los Angeles for 13 years. Now 52, he's single, but hasn't given up hope of meeting his life mate and sharing his life with someone wonderful.
In addition to making a buck, Bunky strongly believes in giving back and helping communities, which is why he has volunteered to answer suicide calls for 2 years for the nation's only gay and lesbian teen suicide hotline; volunteered as a GED tutor at the gay and lesbian youth homeless shelter in Hollywood; ran a marathon, raising over $5,000 for AIDS; and has held various fundraisers for Breast Cancer.
Bunky is honored to be a part of Gillian's Reality Rally and even though he's gay, he still loves and values the importance of healthy breasts! Thank you for helping in the fight against Breast Cancer!