in Charity Chalice Challenge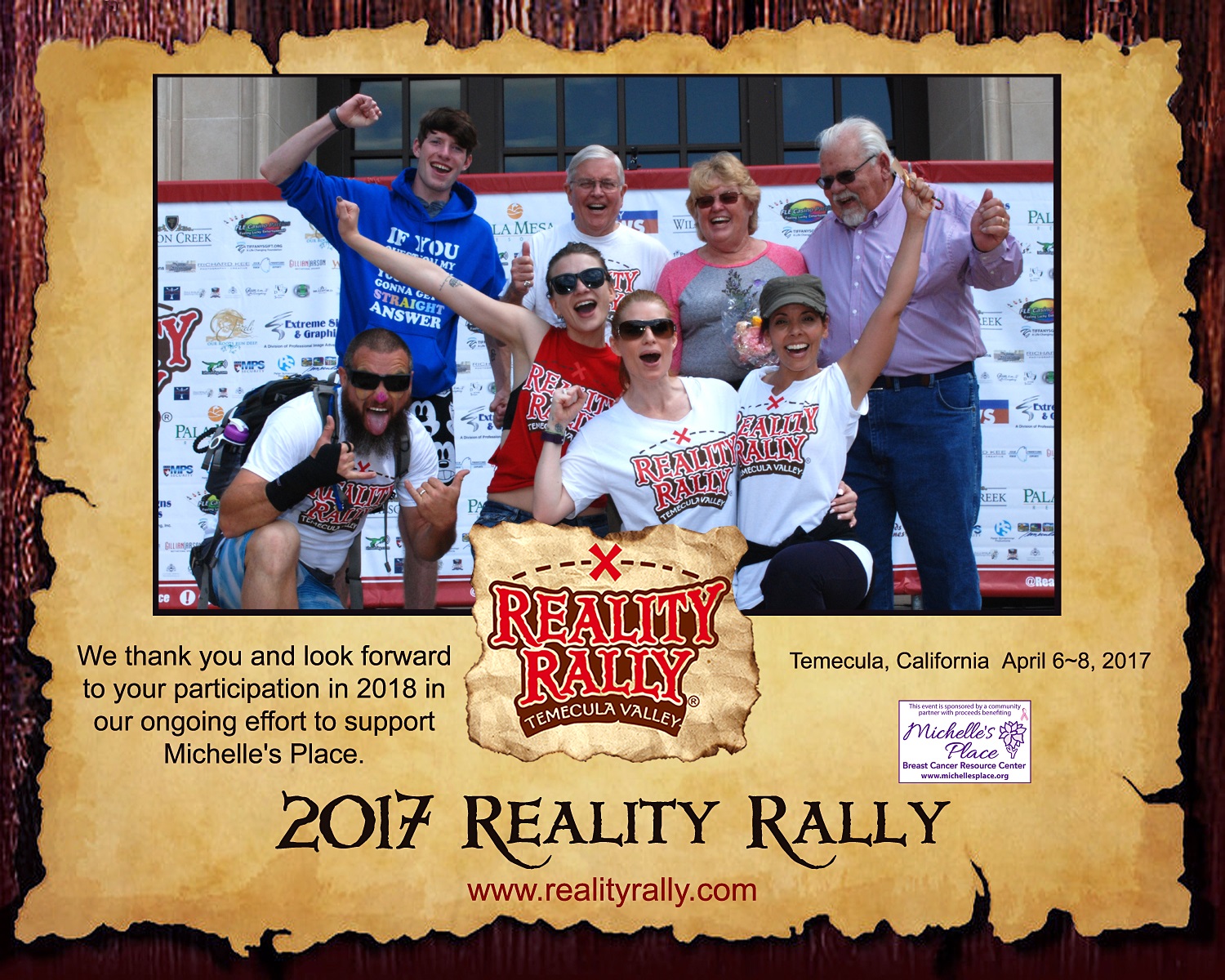 Reality Star: Monterey Salka
Fundraising Total: $25
Place in 2017 Race: 18th
We are really excited to be part of Reality Rally and as a Team able to raise funds for Michelle's Place Breast Cancer Resource Center. We will be competing in the Reality Rally "Amazing Race" type game on Saturday morning, April 8th 2017. Our competition begins with fundraising and we hope you can help by a donation of any amount. We are playing a game to make memories from a really fun day, we raise funds for those who are not playing a game and your donation could save a life and give them a lifetime of memories. 100% of the net proceeds are donated to Michelle's Place. Please help us make a difference today by clicking the donate button now. Thank you, we really appreciate every dollar donated to Michelle's Place.
Team Rose Again is comprised of awesome volunteers and a foster/adopt parent.
Rose Again Foundation provides services and programs to foster children and emancipated foster young adults. These children have suffered abuse, abandonment and neglect. Some live in group homes, some in emergency placement homes and others have been placed into a foster home with the hope of a long term stay. All of the children live with the desire and dream of adoption. They all struggle with the memories of their past and the loss of their biological family unit. Many have been separated from their siblings. Some also struggle with mental or physical challenges. Many have aged out of the foster care system and find themselves alone, struggling to survive. They all wake up each day putting one foot in front of the other as they try to adjust and move forward, all while carrying the pain of their circumstance and loss. Our Emergency Placement Gifting, Kids of Summer Activities, New Shoes program, Bless the Children holiday gifting, Scholarship opportunities and Financial Aid for special needs, help the children adjust to their new surroundings, make new friends, catch up to their grade level at school, further their education, improve their self esteem and have the opportunity to challenge themselves and achieve. With their healing comes a healthier, happier, better adjusted child. Grades at school improve and relationships blossom as the child begins to heal from within. Rose Again is an all volunteer foundation. We are proud to say that more than 95 cents of every dollar goes directly back to the children we serve. For more information go to RoseAgainFoundation.org On behalf of the children we serve, THANK YOU for your support!
Lucy, a UK to Temecula transplant, is a Mom/Stepmom of six; three naturally born children, two foster/adopted children, and one stepdaughter. She is also a certified support provider for people with PTSD. It is clear that Lucy has an immense sense of adventure and an endless capacity for love. This incredible lady not only runs a busy and bustling household, but is also training for her first fitness competition. She is sure to keep Team Rose Again on track and aiming for a win!
This rugger is always up for some competition; especially when helping people is part of the game. A firefighter, rugby player, father of two and husband of one, Ian is all heart and hard work. But don't let that fool you. He takes having fun just as seriously. In last year's race, he dawned a dress and rode the mechanical bull all in the name of fun and charity. We can't wait to see what sort of mischief he will get Team Rose Again Foundation into this year!
Once again, Suzanne Bailey is ditching her Rose Again Foundation Board of Directors suit for a Reality Rally T-shirt and a pair of cross-trainers. This year Suzanne fights in the names of her Mom, Candy, a 13-year breast cancer survivor and her sister, Annie, who is presently fighting breast cancer.
Called by her love for children, Suzanne has been supporting and volunteering for Rose Again Foundation since its inception and, in her spare time, enjoys being a spouse to the aforementioned Ian Bailey, a full-time mom to two wildly adventurous kids and a full-time Marketing Coordinator aboard Camp Pendleton. If she can handle all of this, she is sure to be up for the challenge of Reality Rally.
Team Rose Again Foundation honored in its affiliation with Michelle's Place and Reality Rally. Thank you, again.