Reality Rally Stars Line Up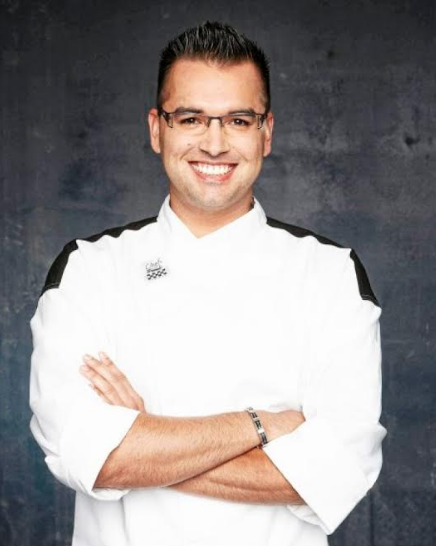 Hell's Kitchen
Born in General Hospital in sunny Los Angeles, Chef Anthony Rodriguez fell into cooking much later in his life. Being a child of a military family he moved across the country several times during his younger years, finally settling down and growing up in San Diego, California. Not sure what he wanted to do with himself he held a large variety of jobs through the years the only commonality between them being that they were almost all customer service oriented.
Anthony had always been drawn and felt comfortable in the kitchen throughout his life, making a game of spinning this spice rack and picking random things to add to his meal for the night. It was his place of solitude and luckily things that he cooked were received well by his friends and family. It wasn't until seeing a commercial for the Le Cordon Bleu Culinary Academy that he made the decision to pursue what he always had a passion for. Anthony enrolled and graduated from Le Cordon Bleu Culinary Academy in Hollywood, California with awards for highest marks and instructor recognition and felt like this was where he belonged.
Upon graduating culinary school Anthony packed up everything he owned into his car and moved almost across the country to New Orleans, Louisiana for a line cook position in the famous French Quarter. Not knowing a soul in the area or even having a place to live for the first few week he lived there Anthony devoted himself to the kitchen and the line and felt like he really found his true calling. Working and learning the culinary trends and styles of many restaurants in the New Orleans area, Anthony heard rumors of an open casting at a local bar for one of his favorite television shows, FOX's Hell's Kitchen. Having only just been in the culinary world for two and a half years and knowing nothing but the line Anthony decided to give it a go, keeping the mindset of "it couldn't hurt, right?"
Anthony became a sort of dark horse on Hell's Kitchen performing as best he could and showing to himself and his peers that this was truly what he had a knack for and what he should be doing in life. Finishing the show and making the life-long friends that he did, Anthony returned to Louisiana only for a short time before deciding it was time to move on. No longer content with just the line Anthony felt the drive and desire to move up in the culinary world. It just so happened that at that exact time another Hell's Kitchen alum, Chef Michael Langdon, was in search of a new Executive Sous Chef. Anthony and Michael spoke on the matter for a few short days before Anthony was again packing up all that he owned and making another move to a place where he knew no one and had never been before all to follow his dream. Anthony now works alongside Chef Langdon at the Huntsville Gold Club in Dallas, PA. There the two are revamping the country club menu, amping up the food and wowing people throughout the Wyoming Valley.
Now a Chef, Anthony strives to do what he does best, thrive and excel in his chosen career, already having done so much in the relative short time he's been in the field Chef Anthony's true passion and dedication shine through at every oppoutinity. Using his new found fame from the show Chef Anthony is attempting to get more involved in the community around him, he's always loved helping people and is finding out that with Hell's Kitchen as a platform to stand on he can reach many more people and truly improve his quality of life while helping others along the way. Even making some great food while he's at it.