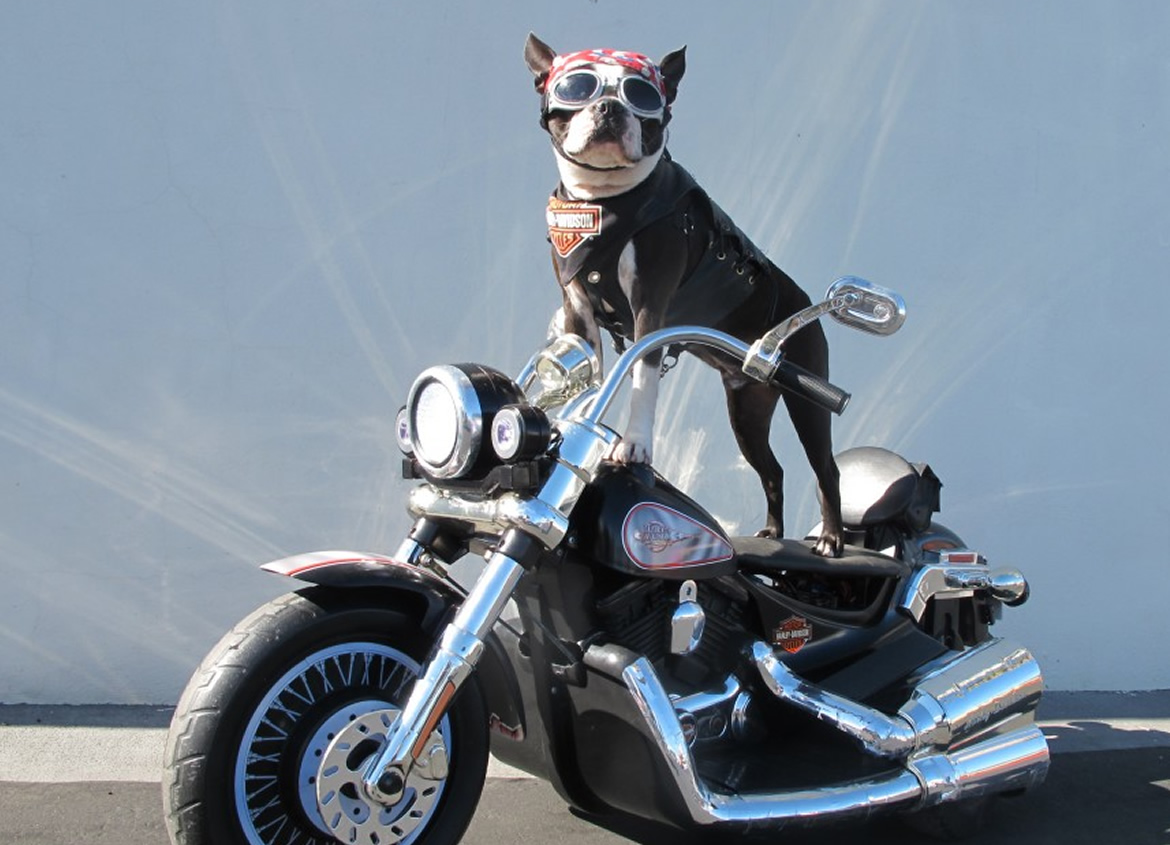 Meet Chopper, a Boston Terrier, an honest-to-goodness "Biker Dog." But don't let that bad-to-the-bone look give you the wrong impression, Chopper has a heart of GOLD! His mission is to put smiles on people's faces and making a difference in lives of those in need and less fortunate, and he's been doing it since he was only 4 months old!
Following in the paw-steps of his predecessor, "Bandit The Biker Dog", Chopper is a registered therapy dog and makes regular visits to the Hospices, Hospitals, Nursing Homes, Private Homes, even traveling from San Diego to the Orange County Children's Hospital, (CHOC) as well as MANY other special events and facilities in the Southern California area. An ambassador of good will, Chopper has also been invited to participate in events for the Armed Services YMCA, "The Nice Guys" organization, Law Enforcement fund raising events, Grand Marshall at the San Diego Lupus and Alzheimer's walks in 2014, and Pet Expo's around the San Diego, Orange and Los Angeles Counties.
Chopper has participated in a number of events benefitting families of police department personnel struck by tragedy and has been lauded by former San Diego Mayor Jerry Sanders, as well as the San Diego Police Chief and her Assistant Chiefs, San Diego county supervisor Ron Roberts, the Police Chief for the city of El Cajon CA and the Mayor of El Cajon, CHP and the SD County Sheriffs.
Chopper is a huge supporter for numerous animal shelters in the surrounding areas, including, but not limited to the Rancho Coastal Humane Society, Chihuahua Rescue of San Diego, and has even been seen surfing to help raise money for the Helen Woodward animal.
Needless to say, Chopper has established his credentials at an early age.
Chopper has also been seen and featured in numerous publications, locally around San Diego. But national and international publications and web sites have covered his activities as well.
Chopper has been seen on "Americas Got Talent", the food channel's "Extra Virgin", TMZ as well as in the 2014 Hollywood Christmas Parade, along with being featured on local TV news stations and network TV. Chopper is creeping up to having 103,000 followers on his Facebook page. You can follow "Chopper the Biker Dog" on Facebook, Twitter and Instagram.
But more important to Chopper and his human buddy, Mark Shaffer, is the smiles he brings to people's faces as he rides his own miniature custom Harley motorcycle, or when they see him riding on the back of Mark's full-sized Harley, in full biker gear (leathers, helmet, goggles etc.).
So if you see a little biker dog on the back of a Harley Davidson with a big smile on his face, be sure to wave and say, "Hi Chopper!" Incidentally, he's smiling because he loves riding, and because he knows he's on his way to bring more smiles to human's faces, young and old.
To read more about Chopper, please visit his website: www.ChopperTheBikerDog.com