Reality Rally Stars Line Up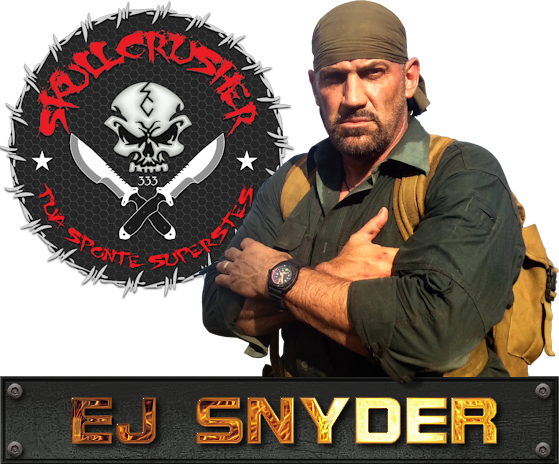 Dual Survival Host, Naked and Afraid & 72 Hours
You may know EJ from the Hit TV Series Discovery Channel "Naked and Afraid" and "Dual Survival". EJ is an Extreme Survivalist, Adventurer, and Retired Army Combat Vet. He is an expert in leadership, tracking, trapping, building shelter and equipment, primitive weapons, navigation, security, self-reliance, and self-defense. He is highly decorated Army Combat Veteran with 25 years military service under his belt, serving Ranger positions in Infantry and Airborne units. EJ is the 1st Man to do the "Naked & Afraid" Challenge, the 1st to do it twice, completing two 21 Day Challenges, and now the only Man to complete it three times, finishing the first "Naked & Afraid XL" 40 day Challenge. EJ also holds the Highest Survival PSR rating at 9.1!!!
EJ is an Extreme Survivalist and Adventurer who employs a "Train as you Fight" approach to survival, and believes in pushing not only the limits of your environment but yourself as well. He is constantly pushing these limits and trying to continually break through the "Law of 3's of Survival". He has thrust himself into many extreme survival situations and environments to grow as a survivalist and pass these lesson onto others. EJ believes that his brand of survival can be dropped into any environment, with no notice and little supplies, making it out where no man should walk.
When not running around in the Wild, EJ is a Motivational Speaker, Survival & Outdoor Skills Instructor, Trekking Guide, Accomplished Writer, and makes Celebrity Appearances at various Trade Shows, Events, & Venues. EJ has also been involved with many other TV, Film, and Commercial Projects that you can check out on www.IMdB.com as well. EJ works tirelessly for many other charities as well, focusing on Kids and Veteran causes year round!!! For more information or to link up with EJ on his many Social Media Platforms go to: www.ejsnyder.com
Thanks!!!
EJ "Skullcrusher" Snyder
910-977-2424
ejsnyder333@yahoo.com
www.ejsnyder.com
"Tua Sponte Superstes"
Follow EJ at: www.ejsnyder.com
Facebook: www.facebook.com/EJSkullcrusherSnyder
You Tube: www.youtube.com/channel/UCZ-yG3JDTn1w-lhfuml3Mgw
Twitter: @ejsnyder333
Instagram: ejsnyder333